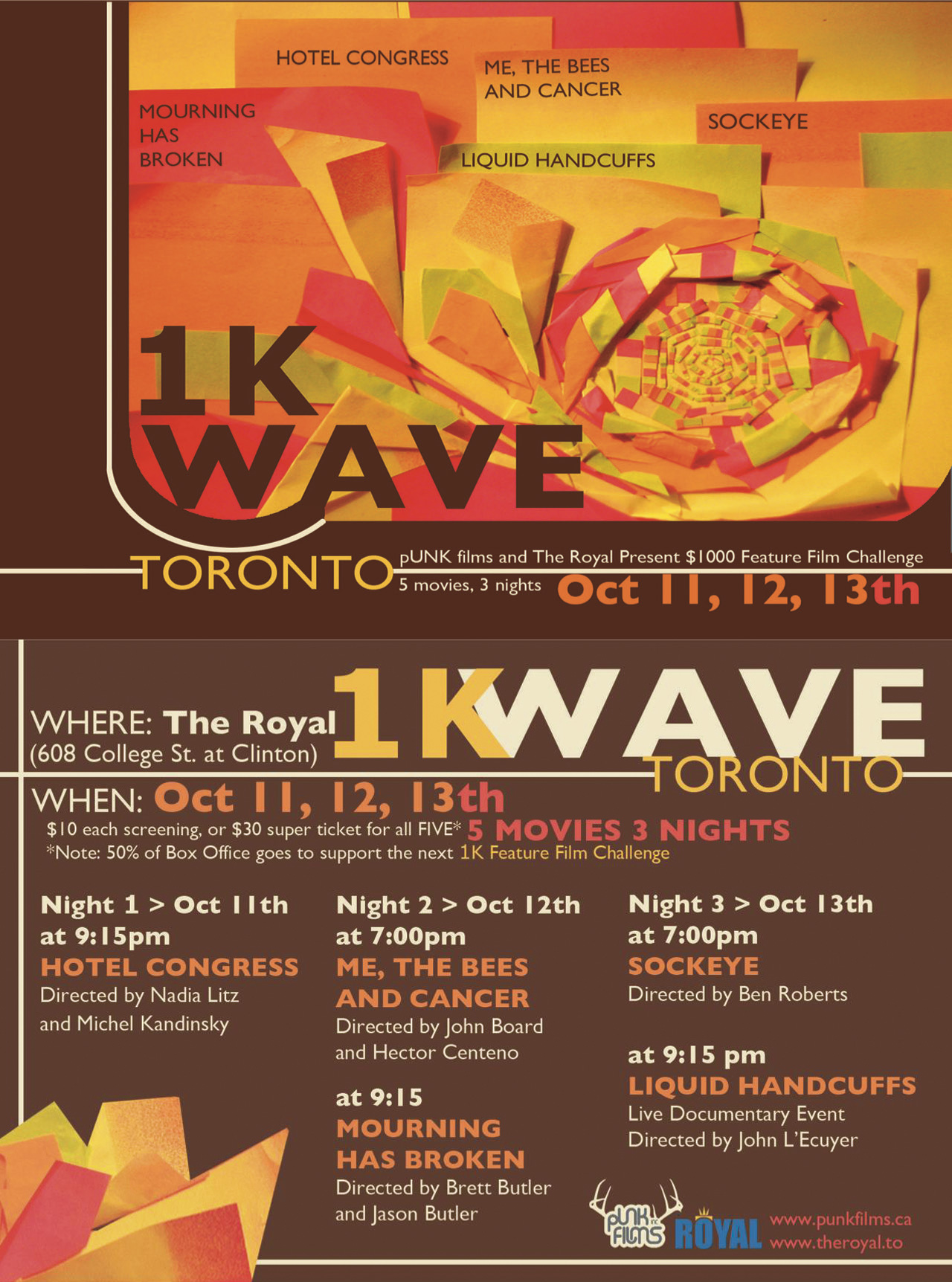 On May 22 2012, Ingrid Veninger and Stacey Donen initiated a $1000 Feature Film Challenge for Toronto-based filmmakers. 34 local filmmaking teams took up the Challenge. Five were selected. 5 features for $5000 in 5 months.
EXECUTIVE PRODUCERS: Ingrid Veninger, Stacey Donen
HOTEL CONGRESS
DIRECTORS: Nadia Litz, Michel Kandinsky
A woman and man agree to meet at a hotel in Tucson, known for its nefarious associations to bank robber John Dillinger, in this funny and tender story of true love told through infidelity.
ME, THE BEES AND CANCER 
DIRECTORS: John Board, Hector Centeno
Legendary 1st AD, John Board (worked with David Cronenberg, Norman Jewison, Louis Malle), delves into this personal documentary, an exploration of 'modern' medicine and alternative treatments, including bee sting therapy, in an effort to cure his own cancer.
MOURNING HAS BROKEN
DIRECTORS:
In this dark comedy, a husband refuses to deal with the death of his wife, and ends up dealing with everything else that pisses him off instead.
SOCKEYE
DIRECTOR: Ben Roberts
A one-night father-son odyssey, where hidden family secrets surface unexpectedly.
LIQUID HANDCUFFS: THE UN-MAKING OF METHADONIA
DIRECTOR: John L'Ecuyer
A diaristic look at 24-hours in the life of a meth addict.