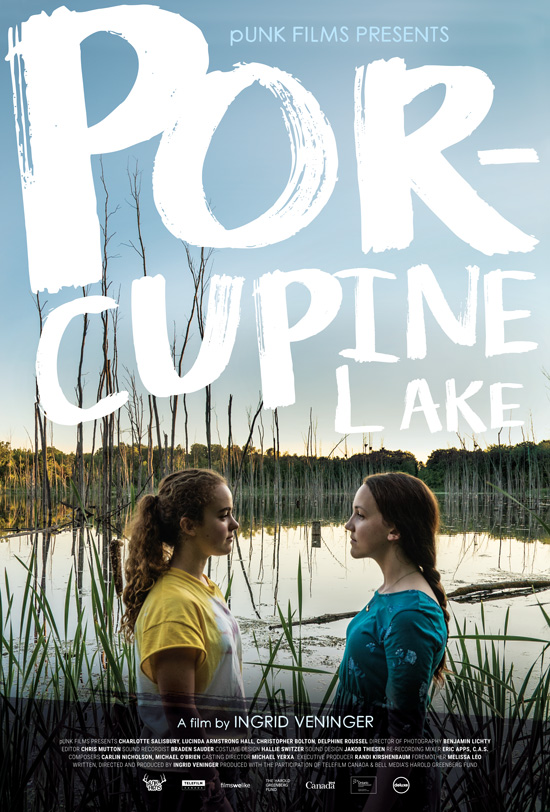 PORCUPINE LAKE
Synopsis
(84 min. 2017)
A story of bravery, small-town summer love, and the secret world of girls.
Thirteen-year-old Bea (Charlotte Salisbury) wants a best friend more than anything else, but when she meets boisterous Kate (Lucinda Armstrong Hall) she gets more than she ever imagined. Porcupine Lake is a story of bravery and the secret world of girls set in northern Ontario during a hot and hazy summertime when adulthood has not yet arrived, but childhood is quickly vanishing.
"Incredibly deep and natural performances." Jane Anderson, Filmmaker, Emmy Award – Olive Kitteridge
"A story every woman carries inside her." Melissa Leo, Actor, Academy Award – The Fighter
"Veninger's most lyrical and accessible film to date." Jamie Paul Rock, Executive Producer – Heartland
A film of "heart and prickly specificity." Angelo Muredda, Cinemascope
"Porcupine Lake is a worthy, wise tale of teenage longing."  Christopher Schobert, The Playlist
"Intimate, and authentic tale of sisterhood." Pat Mullen, cinemablographer
"Sensitively explores feminine coming-of-age." Kate Erbland, indiewire
"It keeps you on edge." Susan G. Cole, NOW Magazine
"The first kiss between Kate and Bea, one of the more honest moments in any film this year." 
Christopher Maynard, followingfilms.com
"assured, subtle storytelling by director/screenwriter Ingrid Veninger." Marsha Lederman, The Globe & Mail
"Porcupine Lake 
is the sort of movie you don't mind getting completely lost in."
Siân Melton,
The Muff Society
"Beautifully shot, sensitively told, it's Veninger's best film." Jim Slotek, original-cin.ca, TIFF Pick
Festivals
2017 TORONTO INTERNATIONAL FILM FESTIVAL – WORLD PREMIERE:
Sept. 10 at 7:30pm – Filmmaker w Cast Q&A
Sept. 14 at 7:30pm – Filmmaker w Cast Q&A
Sept. 15 at 8:45pm – Filmmaker w Cast Q&A
Tickets: www.tiff.net/tiff/porcupine-lake/
*
HALIFAX INTERNATIONAL FILM FESTIVAL
Sept. 17 at 12:15pm
Tickets: www.finfestival.ca
*
BUSAN INTERNATIONAL FILM FESTIVAL
Oct. 13 at 5pm with Filmmaker Q&A
Oct. 15 at 5pm with Filmmaker Q&A
Oct. 18 at 8pm
Oct. 15 at 4pm with Cast Q&A
tickets: www.barriefilmfestival.ca
*
MILL VALLEY INTERNATIONAL FILM FESTIVAL
Dates TBC with Filmmaker Q&A
*
NEWFEST in NEW YORK
Oct. 22 at 1:45pm with Cast Q&A
*
MONTREAL FESTIVAL du NOUVEAU CINEMA
Oct. 8 at 21:00 at Cinema du Parc 1 with Cast Q&A
Oct. 10 at 15:10 at Cinema du Parc 2 with Cast Q&A
*
ST. JOHN'S INTERNATIONAL WOMEN'S FILM FESTIVAL
Oct. 21 at 9:30pm
LSPU HALL
with Filmmaker Q&A
---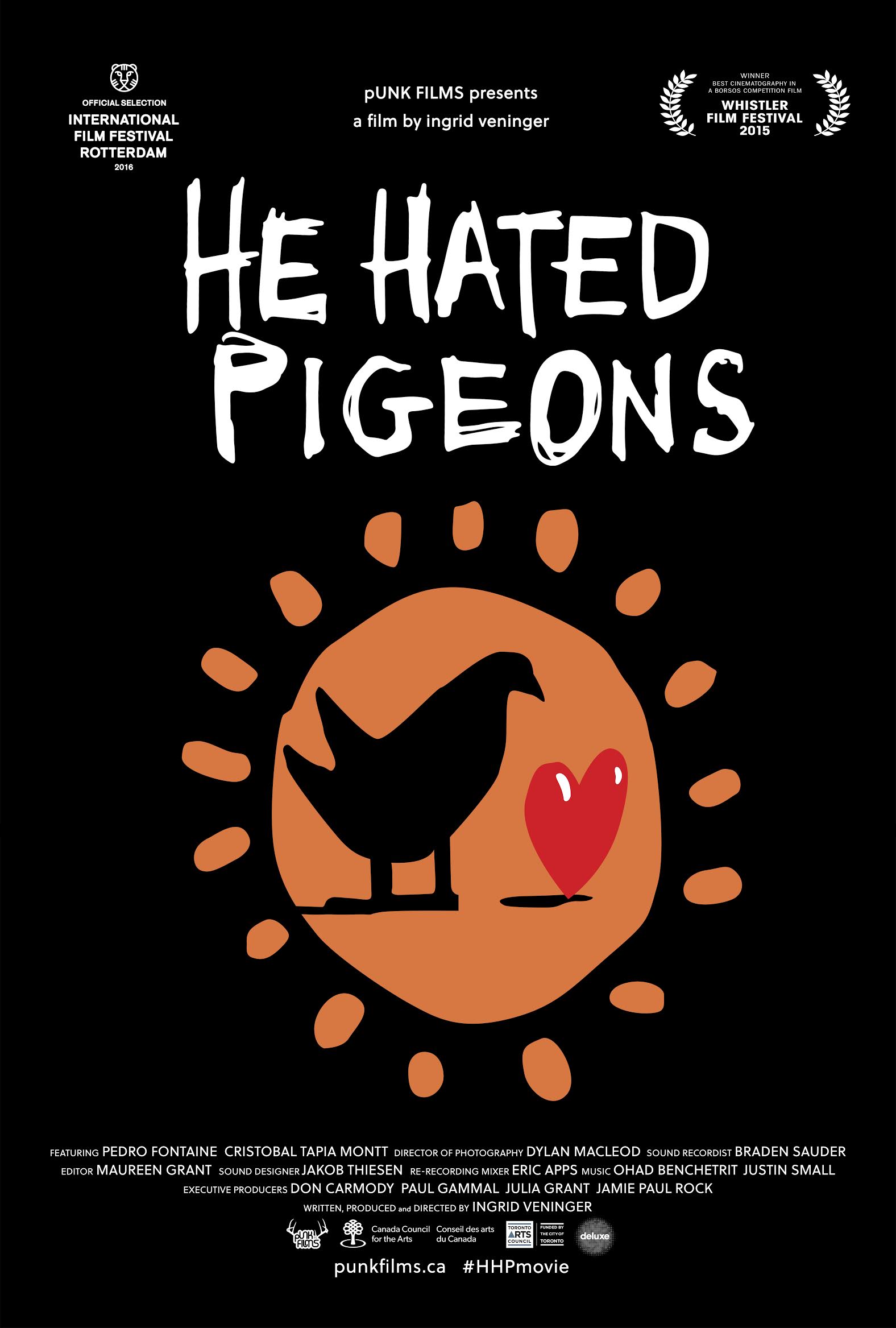 (80 min. 2015)
A slow-burning odyssey about love and loss featuring newcomer Pedro Fontaine in the title role of Elias, a young man who travels from the Northern Atacama Desert to the southern Patagonian edge of Chile on a cathartic journey of the spirit, and to fulfill the wish of his mysteriously deceased lover.
Every screening of HE HATED PIGEONS is presented with a uniquely improvised, ever-changing live score. Linked with the uncertainty of the protagonist's journey, the audience is part of something which has its own intrinsic impermanence.
"Bringing to mind the dreamy road trip of Jim Jarmusch's Dead Man". Spiro Economopoulos, Melbourne Queer Film Festival
"A one-off bespoke experience which blends cinema and performance." Wendy Ide, Screen International at IFFR
"This film is a remarkable experience not soon forgotten." Jason Gorber, Twitch Film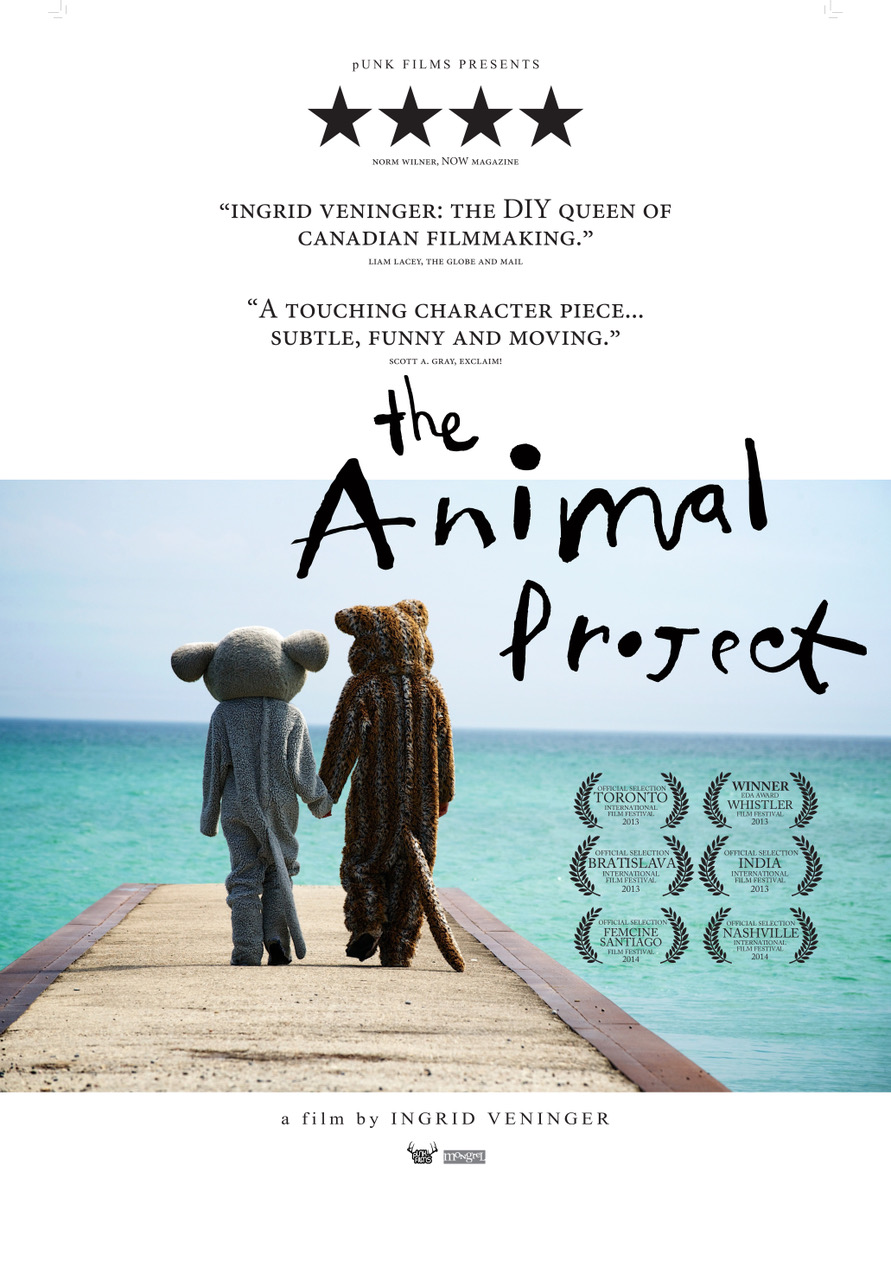 (90 min. 2013)
After an unusual and inspiring dream, an unorthodox theatre director (Aaron Poole) attempts to push a group of eager young performers out of their comfort zones, while struggling with his own ability to live and authentic and fulfilling life with his teenage son (Jacob Switzer).
★★★★ "Ingrid Veninger is definitely a director worth following, as she proves the value of women filmmakers, and the great power of storytelling that they hold." Ilse de Mucha Herrera, The Arts Scene
★★★★ "The reigning queen of lo-fi Canadian cinema has upped her game without abandoning any of her characteristic whimsy." Norm Wilner, NOW Magazine
★★★★ "simultaneously as touching as it is hilarious." Sean Kelly, Toronto Film Scene
★★★★ "THE ANIMAL PROJECT offers a First-Rate Cast in a terrific ensemble piece… Joey Klein & Aaron Poole are so good they knock the wind out of you." Greg Klymkiw, The Film Corner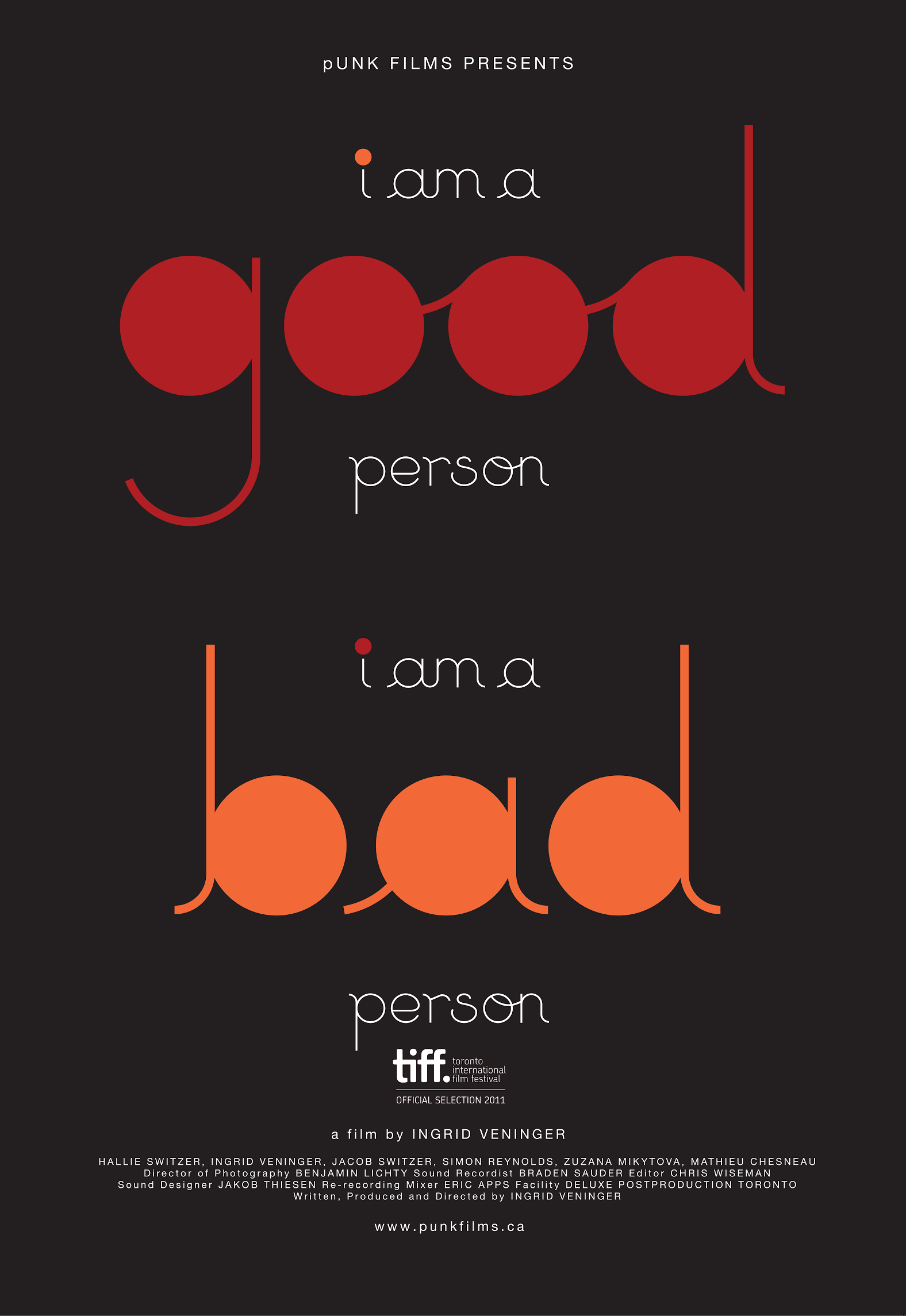 (82 min. 2011)
When a mother and daughter tour film festivals in Europe and decide to part ways, they must confront life-changing choices alone, before returning home.
"i am a good person/i am a bad person shows keen insight into the contradiction between being artistically provocative and a responsible parent at the same time."Peter Debruge, VARIETY
"As Sofia Coppola did for Lost in Translation, Veninger uses naturalistic acting, keep cultural observations and deadpan comedy to excellent effect." Peter Howell, Toronto Star
"Veninger's intimate character studies recall the early works of iconic filmmakers Claude Jutra and Allan King… A skilled demolisher of boundaries, she presents visions of the human experience that are at once bold and genuine." Martin Bilodeau, TIFF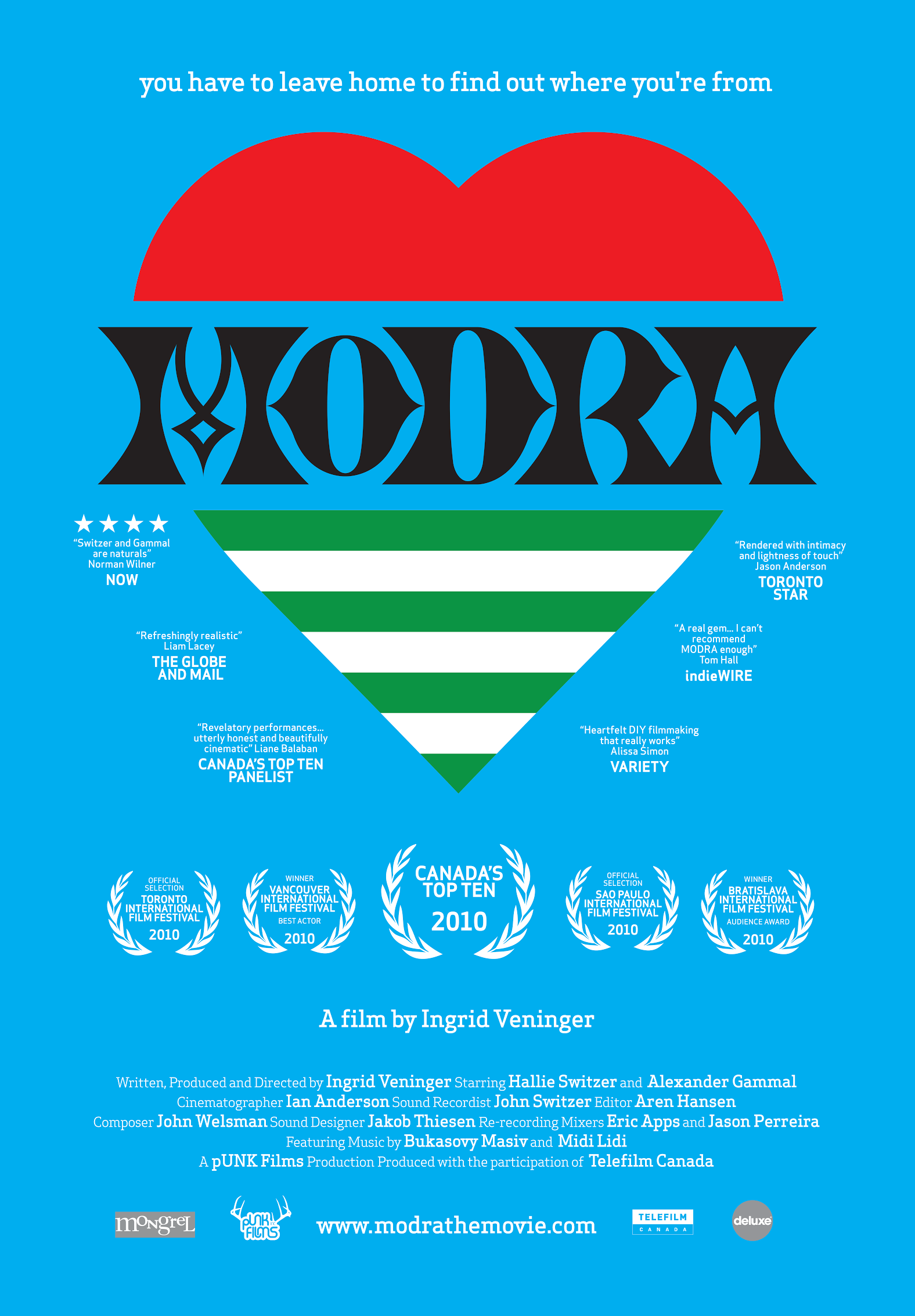 (80 min. 2010)
A portrait of teenage self-discovery against the backdrop of a quirky village in Slovakia.
"Veninger displays a confident control of tone and pacing… a prime example of heartfelt DIY filmmaking that really works… poignantly alert to the nuances of teen life, perfectly capturing that confusing betwixt-and-between time…" Alissa Simon, VARIETY
"[Hallie] Switzer and [Alexander] Gammal are naturals… Veninger's deceptively relaxed style captures every glance, outburst and hesitation." Norman Wilner, NOW
"Connection, conflict, local colour and teenage confusion are rendered with intimacy and lightness of touch."
 Jason Anderson
, Toronto Star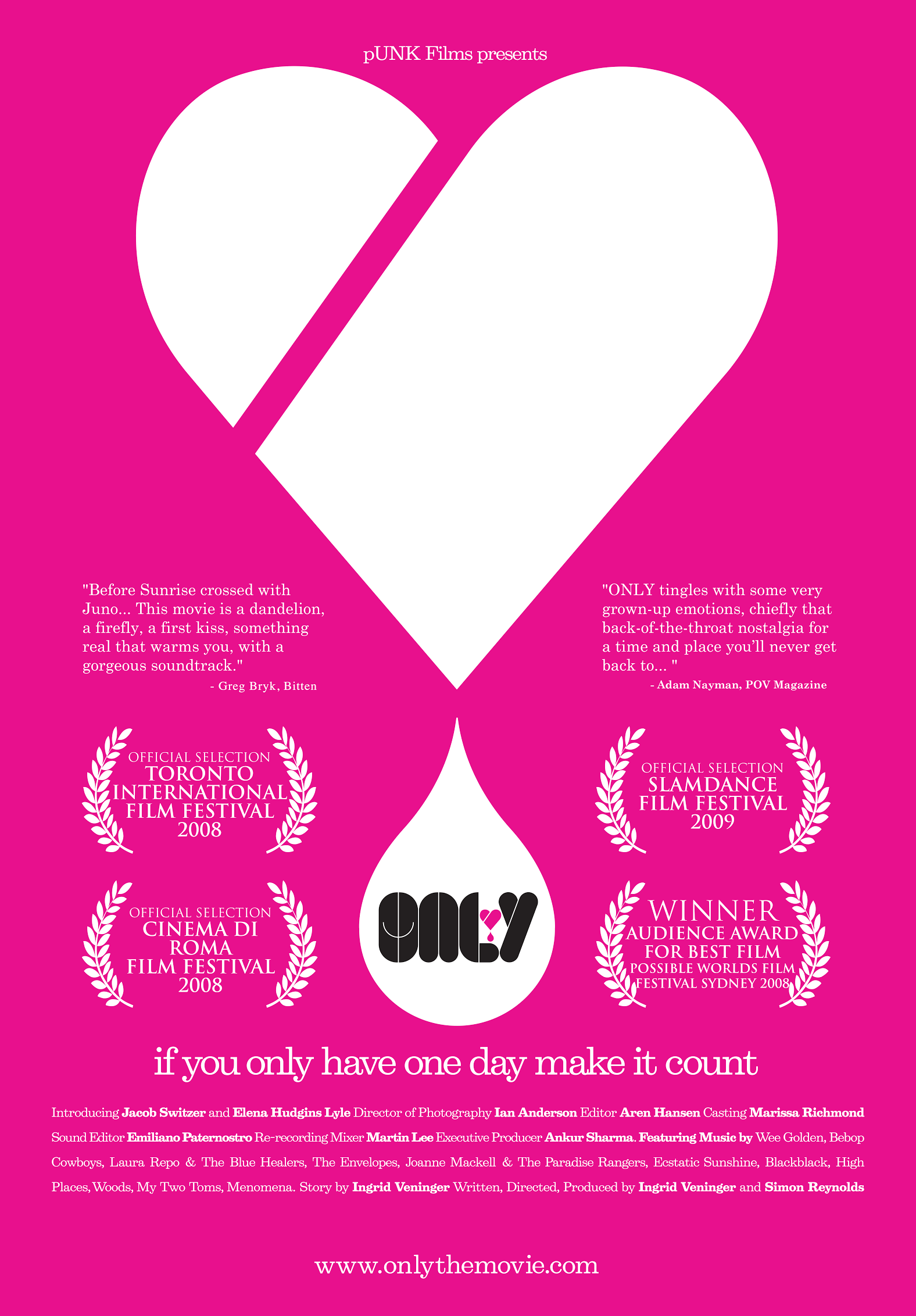 (75 min. 2008)
ONLY tells the story of one day shared between a young boy and girl in northern Ontario.
"Every time I see a film like ONLY, my faith in cinema is restored." Michael Tully, IndieWIRE
"ONLY felt like the ultimate "Canadian" film… because it subtly captures what makes our culture and country so truly distinct." Greg Klymkiw, Canadian Film Corner
"Invaluable. ONLY is a pearl in a sea of mud magno." Alberto Figliolia, Roma
"A deft – and blunt – exploration of the anxious yet romantic world of teens." R.M. Vaughan, The Globe and Mail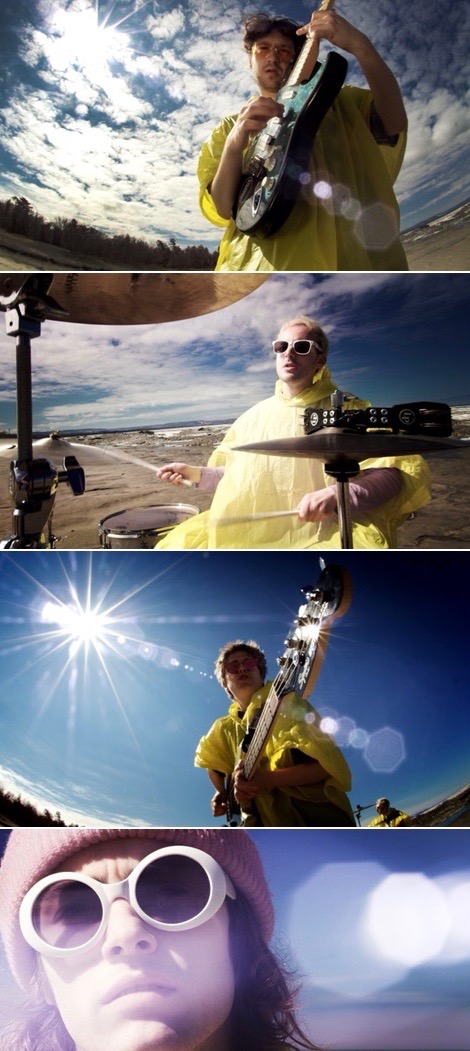 I've been working exclusively in features so it was liberating to direct this music video — my first!" explains director Ingrid Veninger. "I love the sound of GOODBYE HONOLULU. With the melancholy feel of this track, the first image I saw in my head was the band playing on a winter beach in the bright sun, dressed in yellow rain ponchos. Next came the idea of shooting infrared and wide-screen. And who doesn't like a little time-lapse? We shot this video in 6 hours with a crew of 3. I hope the images serve the song and capture some of the band's awesome playful energy.
Director: Ingrid Veninger, pUNK Films
Cinematographer: Jason George
1st AC: Greg Winterton
Colourist: Ryan Ruskay
Editor: Chris Mutton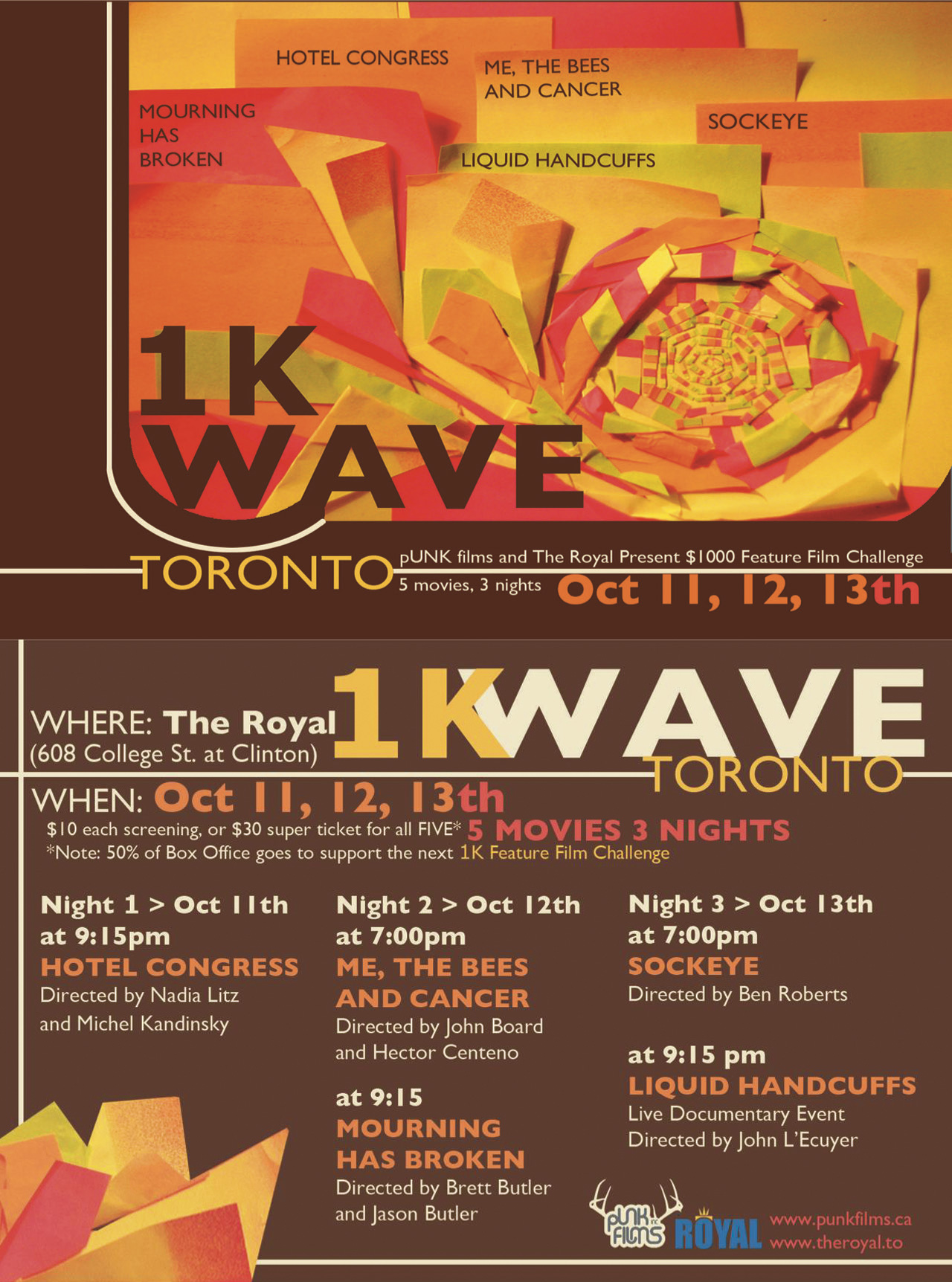 On May 22 2012, Ingrid Veninger and Stacey Donen initiated a $1000 Feature Film Challenge for Toronto-based filmmakers. 34 local filmmaking teams took up the Challenge. Five were selected. 5 features for $5000 in 5 months.
EXECUTIVE PRODUCERS: Ingrid Veninger, Stacey Donen
HOTEL CONGRESS
DIRECTORS: Nadia Litz, Michel Kandinsky
A woman and man agree to meet at a hotel in Tucson, known for its nefarious associations to bank robber John Dillinger, in this funny and tender story of true love told through infidelity.
ME, THE BEES AND CANCER 
DIRECTORS: John Board, Hector Centeno
Legendary 1st AD, John Board (worked with David Cronenberg, Norman Jewison, Louis Malle), delves into this personal documentary, an exploration of 'modern' medicine and alternative treatments, including bee sting therapy, in an effort to cure his own cancer.
MOURNING HAS BROKEN
DIRECTORS:
In this dark comedy, a husband refuses to deal with the death of his wife, and ends up dealing with everything else that pisses him off instead.
SOCKEYE
DIRECTOR: Ben Roberts
A one-night father-son odyssey, where hidden family secrets surface unexpectedly.
LIQUID HANDCUFFS: THE UN-MAKING OF METHADONIA
DIRECTOR: John L'Ecuyer
A diaristic look at 24-hours in the life of a meth addict.